MUET GALA is an amazing 2-day fun festival built around the idea of creating a fun-filled environment for the students of Mehran University of Engineering and Technology and other universities, colleges, schools and institutes of Jamshoro. MUET GALA will be featuring a carnival, book fair, fun fair, gaming zone, food Street and other nonstop entertaining sessions. MUET GALA will provide a platform to creative, and energetic students of MUET to display their talent and ideas. MUET GALA is not limited to entertaining sessions, it will also feature the book fair, where dozens of well-known book vendors of the country will put stalls to sell books on very affordable rates. This event will also provide an opportunity for the student of Mehran UET to bring their entrepreneurship ideas into life. MUET GALA is expected to be attended by approximately 5000 students every day.
Fun at MUET GALA 2019
The purpose of this event is limitless but there are few key points.
• Book Fair: Featuring a variety of books.
• Carnival: Limitless entertaining sessions, competitions, and performances.
• Food Street: Delicious commercial food stalls, reserved for famous eateries.
• Gaming Zone: Huge variety of games.
• Funfair: Amazing stalls of face painting, photo booth, gift shops, souvenir shops, and other interesting modules.
• Participation of all local universities, colleges, schools, and institutes.
• Entertaining singing, poetry, drama, and dancing and other competitions.
• Hundreds of gifts for performers and visiting students.
• Social awareness programs.
• Social media drive and full promotions of sponsors.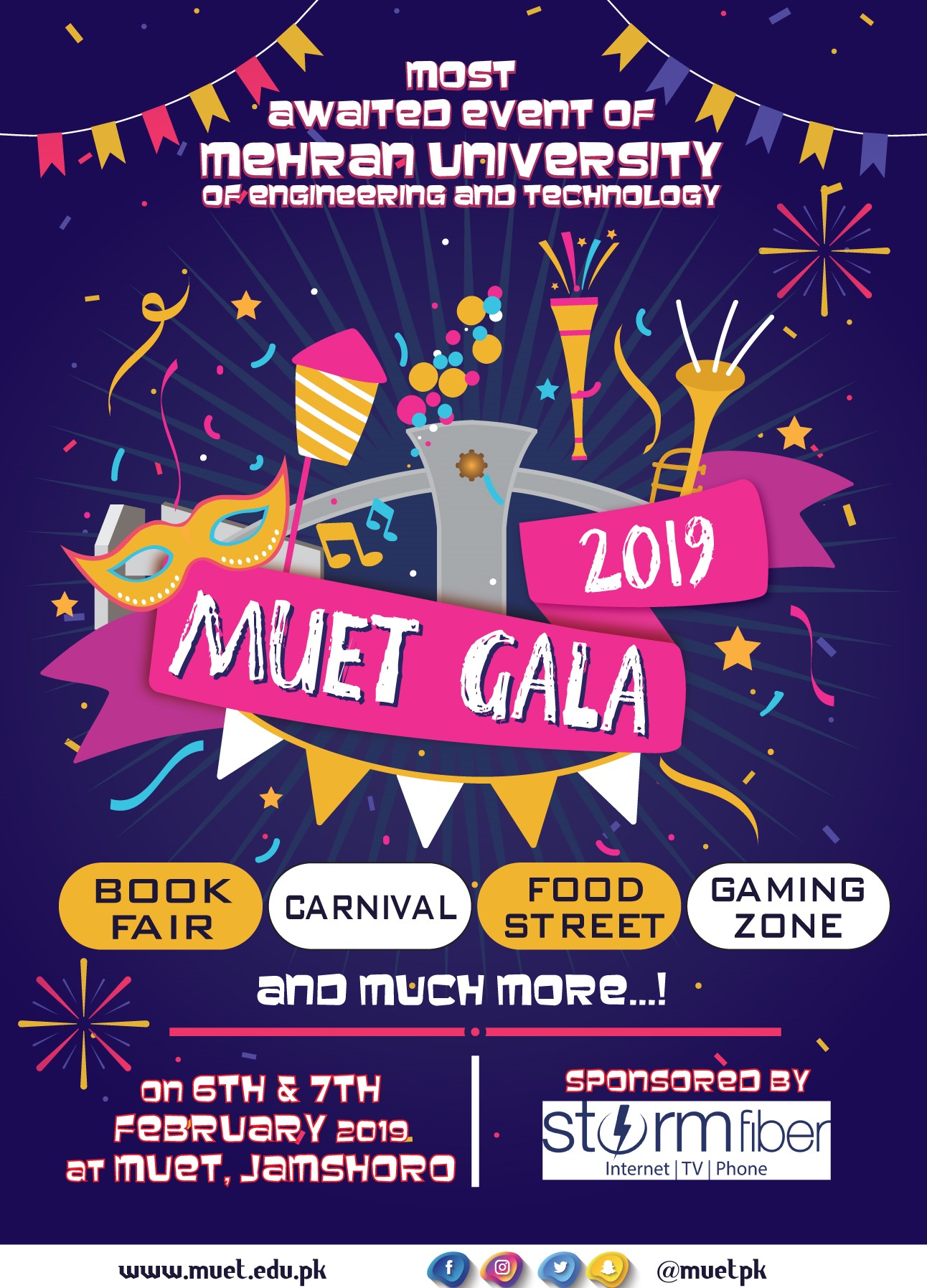 <iframe width="100%" height="350px" frameborder="0" style="border:0" src="https://www.google.com/maps/embed/v1/place?key=AIzaSyDNsicAsP6-VuGtAb1O9riI3oc_NOb7IOU&q=Mehran+UET+Jamshoro+Sindh+Pakistan+" allowfullscreen> </iframe>